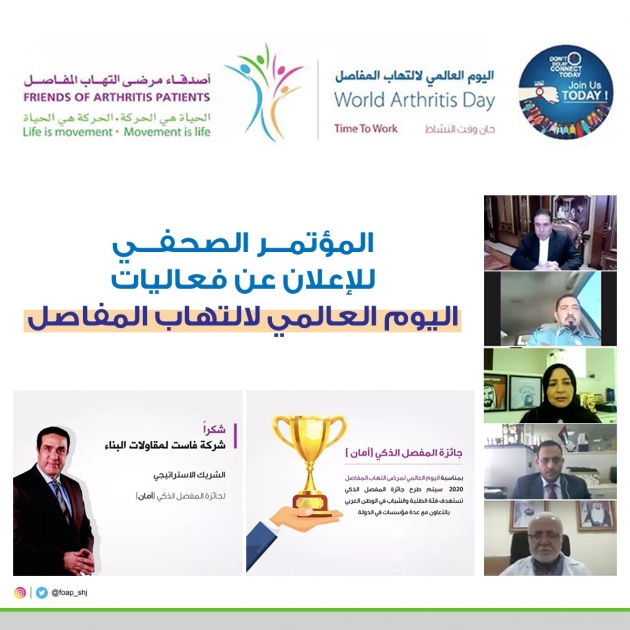 The Friends of Arthritis Patients Society, FOAP, of the Health Promotion Department at the Supreme Council for Family Affairs (SCFA) has recently launched the Smart Joint (Aman) Award, as part of the initiatives and events held in conjunction with the World Arthritis Day which is observed on 12 October every year.
The AED 18000-award is organized in cooperation with several public and private bodies in the UAE and is targeting the students and youth across the Arab world. It features three main innovative areas, including patient-centered smart apps, the best design and implementation of a smart wheelchair, and the best development of a smart joint supportive of the mobility of arthritis patients.
This was announced during a press conference held by FOAP in the presence of HE Waheeda Abdul Aziz, Head of FOAP, Prof. Qutayba Hamid, Dean of College Of Medicine- University of Sharjah, Eng. Fathi Afaneh, CEO of Fast Building Contracting, FOAP members and volunteers, and local media representatives. During the press conference, the Society unveiled its activities and events that will be held on the sidelines of the World Arthritis Day, including the Virtual Rheumatologists Forum, the virtual workshop for school nurses, and a number of awareness-raising programmes that will run until October 30th, 2020.
While welcoming the attendees, Waheeda Abdul Aziz said FOAP is keen on celebrating the World Arthritis Day annually by organizing innovative events and initiatives that help raise people's health awareness about the causes of arthritis and ways of prevention and help achieve patient's health and psychological empowerment.
"Despite Covid-19 challenges, we have been keen to launch activities and initiatives that keep abreast with the health requirements of the current stage, including organizing virtual lectures and forums to enhance societal awareness about arthritis, as well as launching the smart joint (Aman) award to strengthen the level of health services and care for arthritis patients," she added.
Concluding her remarks, the FOAP Head underlined such awards stimulate innovation and creativity in order to come up with solutions to the challenges faced by arthritis patients in their daily lives.
Those interested in taking part in the Award can register via emails or the association accounts. Applications should be submitted in due course, while the project has to compile with the Award concept based on innovation and creativity. The projects can be presented individually or collectively including all society segments, whilst project documents should include an overview of the project developers whether individuals or institutions.