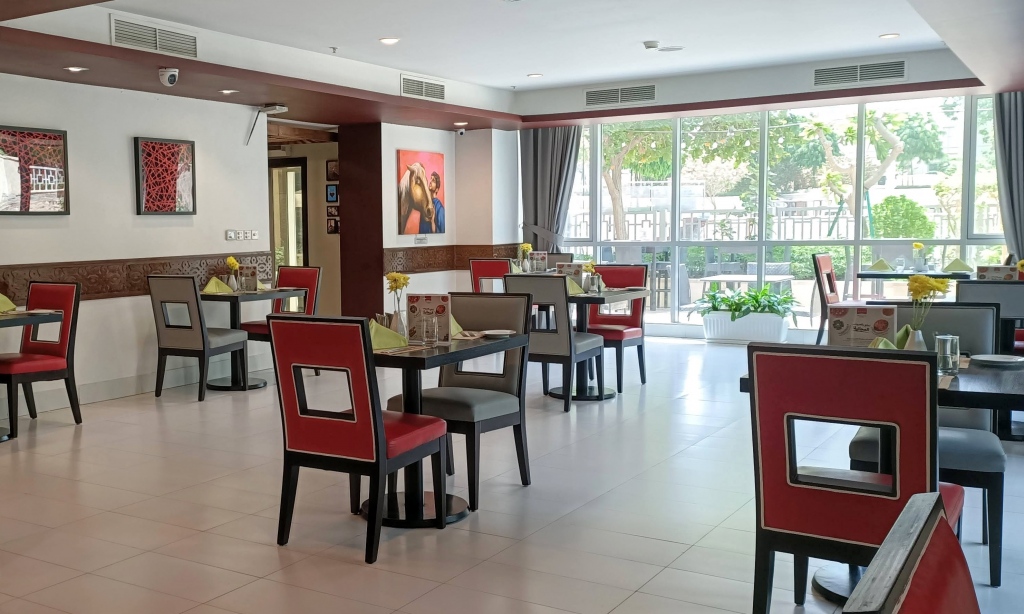 Have a splash of fun and culinary delight at Kenza's family-friendly brunch
Relax and enjoy a fun-filled weekend with your loved-ones as Kenza Restaurant at Ramada by Wyndham Downtown Dubai brings back its Swim & Dine Friday Brunch.
Treat your taste buds to an array of international flavours, which includes appetising brunch staples and a station for freshly-cooked pasta. Add a splash of fun to the brunch and avail of the complimentary access to the hotel's outdoor pool.
Affordably priced at AED 99/ per person, Kenza's Swim & Dine Friday Brunch is available from 12:30 pm to 4:00 pm. Kids aged eleven and below will enjoy 50% discount. Kenza also offers free pool access for a minimum order of AED 75/ per person, for a la carte dining from 7:00 am to 9:00 pm excluding brunch timings.
Swimming pool access is available from 7:30 am to 9:00 pm; and guests are allowed for a maximum period of two hours as per government guidelines.
For more information or bookings, please visit www.ramadadowntowndubai.com, call +971 4 303 9475 / +971 4 330 7330 or email [email protected].
Ramada by Wyndham Downtown Dubai observes strict hygiene and safety protocols at all times to ensure the wellbeing of all its guests. Some of the measures in place include wearing of masks and gloves, temperature check upon entry in the premises, comprehensive disinfection of all areas, placement of sanitizers and safety signages, and the implementation of recommended occupancy in the restaurant, swimming pool and other hotel facilities.
###
About Ramada by Wyndham Downtown Dubai
Ramada by Wyndham Downtown Dubai is located within the city's vibrant commercial and tourist centre. The hotel provides a great view of Burj Khalifa, the tallest building in the world, and overlooks the spectacular Dubai Fountain. It is a short walk away from The Dubai Mall, as well as to a wide array of dining venues along Downtown Dubai. Its prime location makes it ideal for all types of guests – business travellers attending conferences and exhibitions, extended holidays for families, or guests on short Dubai getaway. The hotel offers a modern luxurious city suite living with its spacious accommodation and tasteful interiors complemented by an outstanding service. Guests can choose from a range of options including a junior suite, one-bedroom suite, two-bedroom suite and the luxurious four-bedroom penthouse. Kenza Restaurant, located at the hotel's second floor, is an all-day dining venue that serves a delectable selection of local and international dishes. The hotel amenities include a well-equipped gymnasium and a large outdoor swimming pool where the guests can rejuvenate and relax amid the hustle and bustle of the city.